Opting in to web push/browser notifications
What are push/browser notifications?
Web Push/Browser notifications are a way of delivering additional content to you quickly as you browse the internet. This could take the form of promotions, discounts, announcements, voucher codes and more!
When using your web browser, you'll occasionally receive exciting offers and updates as they go live - meaning you get hot news faster. Don't worry - these notifications won't appear elsewhere and will only pop up when actively using your browser
How do I enable web push/browser notifications?
When you first land on the Green Man Gaming website, you'll see a small box in the top left of your browser (photo) asking for permission to send you notifications. Accept that - and you're done! It's as simple as that to enable browser notifications.
Not seeing this option?
You will need to ensure notifications are allowed under your browser settings. You can do this by clicking on the padlock icon on your URL bar.
If you are already set to "Ask (default)" or "Allow", you will instead see the image below, but can change your notifications under "Site settings".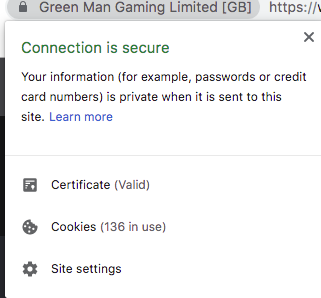 Once this option has been enabled, when you reload the site, you will be prompted to either block, or allow notifications from the website. 
Once allow has been selected, you will be opted in to start receiving web push/browser notifications.